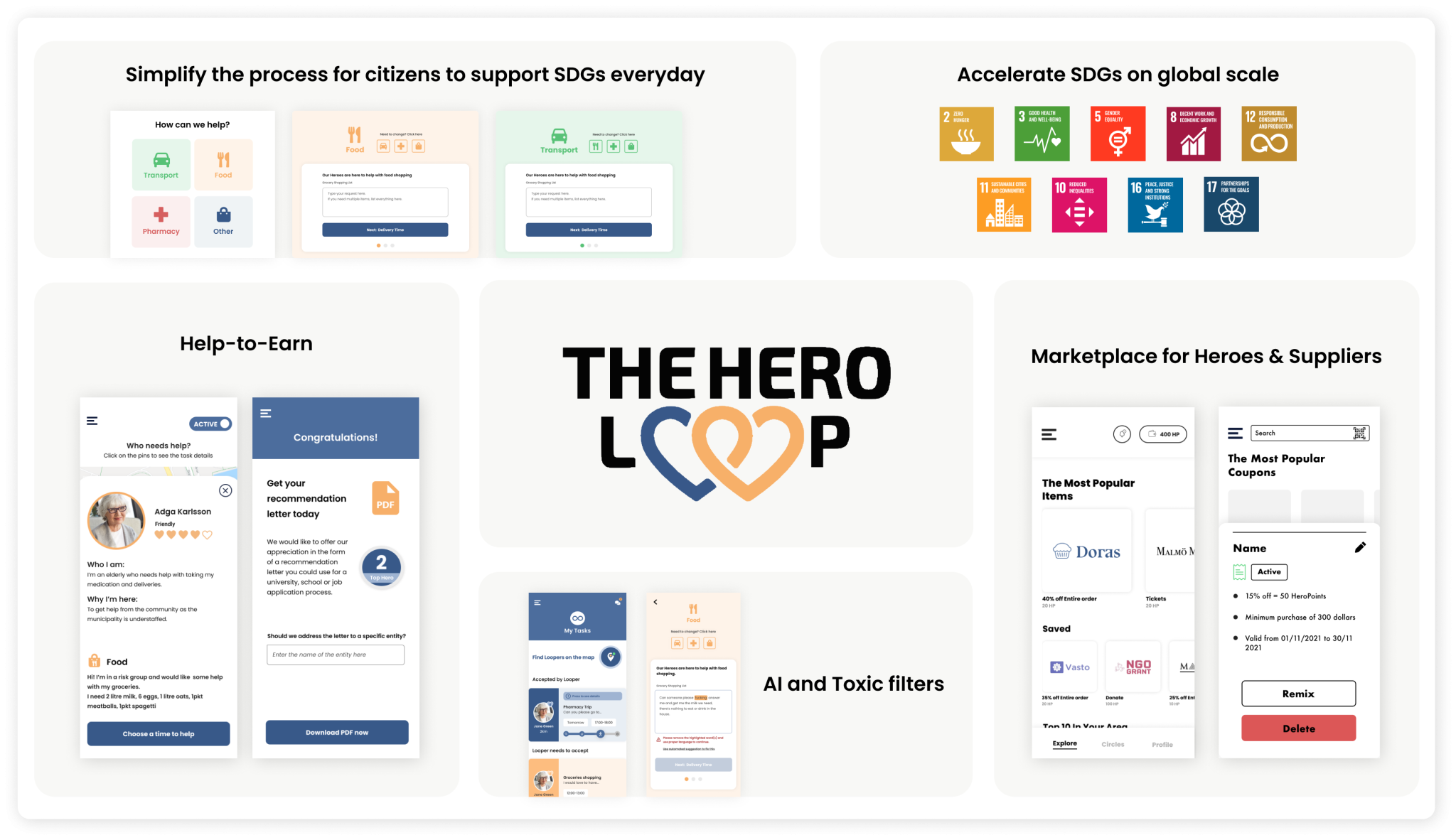 Corporate Citizenship Solution
Do you want to run TheHeroLoop web app inside your company for a good interchangeable environment between your employees and citizens? We got you covered. We provide access to a global HeroNetwork that can help create stronger communities. We support your organizational citizenship efforts by activating our HeroNetwork to partner with your team in times of need. We can also bring out the heroes in your teams, we can provide custom platforms that promote and leverage global citizenship within your organization. Also, we can provide data and dashboards with anonymized data to quantify efforts and track trends.  
Design Thinking Workshops
Our own in-house team members are strong in their fields, and are available to conduct workshops to help you in your digital transformation journey. Our focus is on building new human centered applications with a human centered mindset to solve problems together with empathy and humility. If you have a challenge or idea, together we can understand the present and envision the future. Together with you we will immerse the idea in the real world, come together, empathize and then prototype it. 
Data is the new gold, but not all information is created equal. For TheHeroLoop web app we utilize advanced AI/ML to keep our anonymous users safe, but also to pinpoint the most pertinent KPI data, by providing you or your company with accurate engaging dashboards that provide insights. Recognize trends, see where you are making the most impact and identify opportunities in real-time. Strategy thrives on clean data, our experts are here to help.

We are skilled in building IT Solution stages and are a tightly knit self-organizing team. Together we collaborate to build applications and orchestrate them in Cloud. We can license our Cloud platform to work on building your application, and also host it if you would prefer. Our services include but are not limited to; UX/UI Design, Systems Engineering, Web & App development, Application hosting, Project Management, and Data Hosting.
Our TheHeroLoop web app is built by a wonderful team and since we value each others talents we decided that consulting with other businesses is the way to go. Our consultants are sitting in several parts of the world and are used to working remotely. With a range of expertise we can help you with your business idea, build your new app and develop your branding. Don't hesitate contacting us for a partnership, they are precisely what moves us forward toward a brighter and more sustainable future.
Our team can handle requirements with Design Thinking, Agile and Lean methods, write well written scalable code, write automatic tests, handle security aspects, automate and orchestrate through DevOps CI/CD, and use AI/ML to create data driven dashboards. 
We are skilled in these stages and are a tightly knit self-organising team. Together we collaborate to build applications and orchestrate them in Cloud. You can hire our team – or any of us, one-by-one depending on your needs. We have  Cloud platforms where we can work on building your application, and also host it if you would prefer.
Meet our consultants that are available to take on new temporary roles.
The Hero Loop values diversity and employ consultants from various countries to work remotely.
Let's work together on your next idea